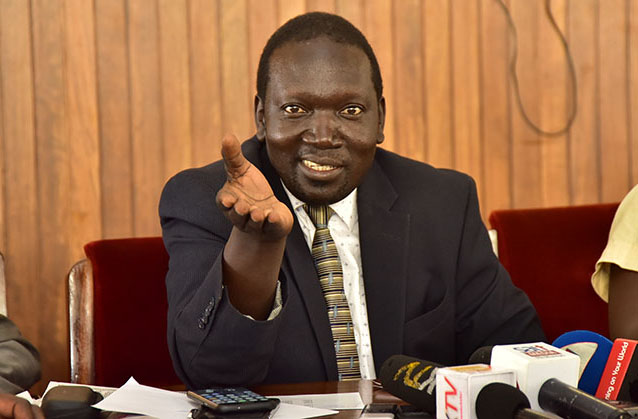 By Male Marvin
KAMPALA – Pentecostal pastors in Kampala on Sunday interviewed Manjiya County MP, Hon. John Baptist Nambeshe who recently moved a motion seeking leave of Parliament to present a Private Member's Bill intended to regulate religious and faith organisations in the country.
Nambeshe, who has since withdrawn his proposal in Parliament, told the presiding apostle of the Born Again Faith in Uganda, Dr Joseph Serwadda that the Religious Organisations' Bill 2019 was meant to among others cater for faith and religious organisations whose rights are being infringed upon.
Hon Nambeshe described Father Simon Lokodo's yet-to-be drafted policy on RFBOs as "restrictive and prohibitive" revealing that he took two years studying his, to make sure that its objective carefully fits in.
He explained all this during a television program hosted by Dr Joseph Serwadda and Apostle Charles Tumwine.
Hon Nambeshe said legislators did not give opportunity to study the bill so as to understand its content, "for that reason they distorted its objective and only degenerated into attacks causing insults," he said.
"I wrote the arguments for the merits of this bill on the basis of the challenges that are in the scattered legislations pertaining to registration of religious organisations where by the objective of the bill was to consolidate a law under which all religious organisations in Uganda are registered – under one body,"
"The only unfortunate bit is that the members in the House, particularly those from traditional religious bodies misunderstood the gist of the bill,"
"All laws pertaining to religious organisations registration should be consolidated so that there is one agency that does the registration exercise so that all enjoy equal liberties,"
"I was doing this on behalf of the silent majority out-there whose rights are being infringed upon. They have a right to register, and have their faith based organisations operate with a latitude that allows them nationwide approach, than having limitations,"
Hon Nambeshe told Dr Serwadda he is a born-again Christian and Church elder whose motives were unswayed.
As UG Christian News reported on 30 January, 2019, heated concerns were raised over the proposed bill by fellow MPs who said "matters of religion will be tricky to regulate."
Hon. Jennifer Nantume (NRM, Buvuma Islands) noted that the Bureau charged with regulating religious organisations will be interfering with the freedom to worship.

"We have diverse cultures and a strong base of traditional beliefs that vary. This would be difficult to regulate because of the unique beliefs of the various groups," she added.

She said that the issue of worship is an individual conviction and constitutional matter as long as it does not infringe on other people's rights.