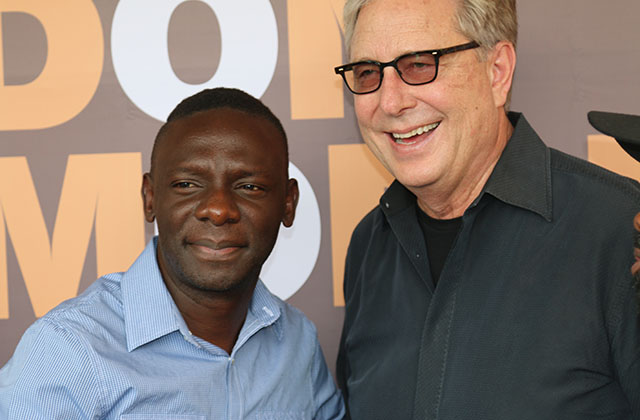 By Aaron Sseruyigo
KAMPALA – Well-known Pastor and gospel musician Wilson Bugembe could not hold back his excitement on Thursday upon meeting American songwriter, singer, and producer of Christian worship music Don Moen.
Bugembe was quick to express his gratitude towards Don Moen, saying the gospel legend has inspired countless Christians in Uganda and that his music is an anthem in many churches.
This was during the press conference at Méstil Hotel & Residences located in Nsambya, Kampala.
Pastor Wilson Bugembe told media reporters that Don Moen's worship is accompanied with miracles and deliverance, hence Ugandans intending to attend the Kampala Praise Festival on 8th February at Kololo airstrip should come with high expectations.
It is here that the 'Wanaza' hit singer noted that the annual Worship Night event was birthed out of the impact Don Moen's ministry has on his life.
When he started the event more than 7 years ago, Pastor Wilson Bugembe said the platform offers Christians from all walks of life a unique opportunity to unite fervently in prayer and worship. 
Attended by over 30,000 people, this event has in the past drawn preachers including Pastor Jessica Kayanja, Pastor Dipo Oluyomi (Nigeria), Judith Babirye, Pastor Isaac Kiwewesi , Apostle Alex Mitala, Pastor John Bunjo, Pastor Joseph Sserwadda, Pastor Simeon Kayiwa, Justine Nabbosa, African Children's Choir and Kenyan award winning artiste, Kris Erroh among others.
Wilson Bugembe told Don Moen he started listening to his music while in school. He explained further that life on the streets was hard, but through Don's music ministration he was able to find encouragement and hope.
In his remarks at the Press Conference, Don Moen urged gospel musicians to go deeper and release songs inspired by God and not a duplicate of what already exists.
In order to write songs that will touch people beyond their intellect and emotions, Don urged music ministers to among others live a life rooted in God's word.