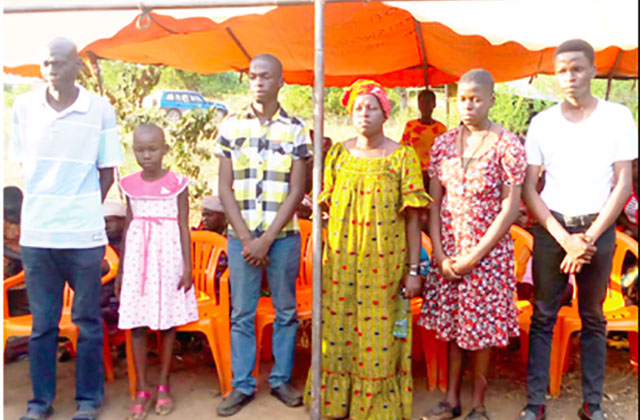 By Paul W Dennis
A Christian father and mother have been reunited with their son who was abducted on 9 August, 2013 at the age of 14.
Eric Okello Otellu was kidnapped by unknown men as he approached Kyambogo College in Kampala where he was attending classes in senior one.
Describing the seemingly endless years between his son's disappearance and their reunification, Mr Patrick Otellu said he was depressed and resolved to start living in the village.
This came following the loss of his job as an accountant at Mulago National Referral Hospital when the search for Eric intensified.
"Eric always left home early in the morning and often returned at round 6:00pm. On that day, we waited for him and he did not come back home," the victim's father, Mr Patrick Otellu told a local news daily.
"We went to the school but did not find him – we met a student who used to walk to school with him. He was called Gilbert Mulangira. He told us that as they were walking to school, a black car with government number plates that had been trailing them suddenly stopped and some men got out, pulled Eric inside and drove away with him," Otellu explained.
"I was disappointed that I was not helped by police. One senior Police officer told me I was putting him under pressure to look for my son as if that was the only case he was handling," Otellu further narrated.
Upon sharing the announcement of his son's disappearance on various media platforms, Mr Otellu says he received calls from people claiming they had seen Eric.
Some asked him to send them money, but after sending it, they would switch off their phones.
5-year search comes to an end
Mr Patrick Otellu told the New Vision that news of Eric's return found him in a meeting with friends on December 19, 2018
"My wife called me, I decided not to pick her call because I knew she was going to ask me about Eric. She then sent me a message telling me Eric had returned home,"
"I was speechless and moved away. I called the house to confirm whether this was true and when she did, I immediately knelt down and prayed and then went to bed. For the first time in five years, I slept till midday,"
Patrick travelled to Kampala and says immediately he went to his son's room, he did not know what to do.
"I looked at him, This was not the Eric I knew. He was emaciated and had several scars on hid body. I moved closer and asked him what had happened. He looked dejected. He then murmured that he had knocked a stone. I knew he was lying," Patrick said.
Eric's mother, Juliet Alale says he would be joining University if he had not been kidnapped.
"He had several wounds on his chest, including a fresh one that had been inflicted with something sharp. He did not tell me exactly what caused it. I tried asking him whether he would go to school if I took him back, he did not answer," Patrick said.
"I twisted the question and asked him whether he would return to school. he said he would only go to a boarding school. I realised he was scared and maybe whoever kept him for the five years had warned him of dire consequences," he added.
The family told the New Vision they have not yet found out what happened to Eric, but organised a thanksgiving service in Soroti on Saturday.